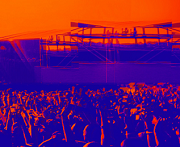 Arriva l'estate e con Rock in Roma l'Ippodromo delle Capannelle si riprende il ruolo di palcoscenico del rock tra i più importanti nel nostro Paese; inutile dire che le presenze soddisfano sia gli appassionati dei monumenti viventi che quelli della scena più recente. Si comincia oggi con il revival dei Duran Duran, ma il calendario prevede le stelle di prima grandezza per le folle oceaniche al Circo Massimo il 2 e 3 luglio (David Gilmour), Bruce Springsteen con la sua e Street Band il 16 luglio. La sede di Capannelle non sfigura con gli Skunk Anansie il 15 luglio e gli Iron Maiden il 24 luglio. Ma ci sono anche i Lukas Graham il gruppo danese autore di 7 Years il 21 giugno, la band dal tipico sound southern Blackberry Smoke il 28 giugno, una istituzione della chitarra come Joe Satriani in compagnia di Steve Vai e degli Aristocrats il 2 luglio.
Il 13 luglio arrivano The 1975, un gruppo britannico che dà l'impressione di rinnovare il pop sintetizzato degli anni '80, coniugando quello svagato delle boy bands con quello altrettanto essenziale ma più cerebrale dei Talking Heads. Per gli artisti stranieri l'intero programma su http://www.rockinroma.com/line-up-rock-in-roma-2016.html.
The Italian Way (http://www.rockinroma.com/line-up-the-italian-way.html) è la line up dedicata ai musicisti e gruppi italiani, tra i quali non possiamo esimerci dal menzionare James Senese e Napoli Centrale, punto di riferimento storico del rock progressive italiano degli anni '70, jazz e popolare insieme.